Getting quality material when building a structure is an important part of any job.
Rock Solid Concrete supplies quality concrete mixes for curbs using the correct mixture for the highest strength possible. A good cement mixture is crucial. Our company has been supplying concrete to match our client's needs and requirements in building curbs and firm structures.
For example, this project shows the construction of an 18" vertical curb with a curb machine.
Contractor: Villa concrete
Project: RDO Leasing, new yard in Chandler AZ
Creating this curb involved the use of curb machine and it starts with MAG A, 3000 psi concrete, which is fed to the hopper of the curb machine where it is extruded and given the final look.
Curbs can add visual appeal to different type of surfaces and also strengthen the edges of pavements by containing the pavement subsystem. Curb structures need to be braced and interlocked to maintain elevation. There are basically two kinds of curb structures. Mountable curbs are generally known as barrier curbs and are formed to act as a barrier for vehicles leaving the pavement. Roll Curbs usually have sloping faces that allow vehicles to use them and access main roads or driveways.
Rock Solid Concrete has been a household name for more than 22 years in delivering the best cementing solutions to our clients. You too can get in touch with Rock Solid Concrete to know more about our services. We'll help you with the right concrete mix you need for your project. Call us at 480-351-0123.
What do Carp and Concrete Have in Common?
Answer: The SRP Canal dry-up Project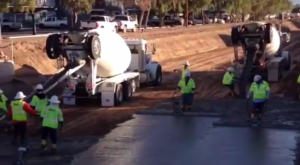 I had always thought "the whole 9 yards" was somehow related to football. You know, like "3 yards and a cloud of dust." But I recently learned that it is a concrete term. You see, the average capacity of a standard cement mixer truck is around 9 – 10 cubic yards. So when you need the whole load the expression is "the whole 9 yards." It's not how much you need for the next first down!
What does that have to do with the SRP Canal dry-up project? Well that project requires several trucks with the whole 9 yards.
Each fall and winter, portions of the Salt River Project's major canals north of the Salt River are dried up for about a month. This is so that maintenance and construction work can be completed on the dried up section.
During the dry-up trash and debris are removed from the canals. In some cases during these dry-ups both banks of the canal may be closed to the public to allow the required maintenance. These closures are to ensure public safety while the work takes place.
Why Dry-ups are Necessary
SRP is responsible for keeping the canal system in operating condition for normal water delivery. Canal dry-ups allow SRP, as well as other utilities and municipalities to perform construction and maintenance activities in and around the canals.
During these dry-ups portions of the canals are lined with cement like protective covering provided by Rock Solid, Inc. and other such concrete companies. This, of course, requires more than the whole 9 yards of several cement trucks. For the section of canal recently completed between 15th Avenue and 27th Avenue, Rock Solid provided about 5000 cubic yards of concrete. That much was required to cover the floor and walls of this section of the canal.
This project helps to minimize water loss through seepage into the ground.
Local governments also use the dry-up periods to do road work and other maintenance near the canals. Sometimes bridges are built or road ways are improved over and near the canals.
There's Something Fishy here.
As you may know, the canals are filled with carp and other fish. Fishing on the canals is a popular pass-time. The dry-up of sections of the canals can cause severe problems for the fish. So SRP catches as many of the fish as possible and moves them to new, non-dry, locations during the clean up. For an interesting fish video go to
Recreation Restrictions and Safety.
As you might expect, recreational use of the canal and canal banks is restricted during these dry-up periods. In some cases both banks of the canal will be closed to the public to allow for the required maintenance. The closures are necessary to insure public safety while work on the canals takes place.
Dry-up Schedule.
Salt River Project performs dry-ups on a rotating sever-year schedule. Dry-ups are performed annually on canal sections south of the Salt River between mid-November and mid-December and on the north side of the Salt River between January and early February.
If you are interested, you may view a map of the seven-year dry-up plan. This map is for illustrative purposes and is subject to change without notice.
And that's the whole 9 yards.

How Concrete is Made at Rock Solid
Rock Solid Concrete produces high-quality concrete from each of its concrete batch plants. Concrete is also referred to as Ready-mixed concrete.
Ready-mixed concrete is produced from basic raw materials: Crushed and natural aggregates, Sand, cement, fly ash, water, and chemical admixtures,.
In a typical cubic yard (standard measurement) of ready-mixed concrete, the primary component (weight and volume) is aggregate, natural and crushed rock and sand. Giant machines, called rock crushers, pulverize larger-sized rocks into smaller aggregates that are sized through screens to provide graded materials for each concrete mix we produce. Each mix is different, depending on the use of the concrete.
Cement is a fine, grey powder made with calcined lime and clay. When cement is mixed with water, a chemical reaction begins that will eventually result in a hardened substance. When aggregates, rock and sand are added to the cement and water paste, the result is concrete.
Chemical admixtures and fly ash are used in the production of ready-mixed concrete to increase strength, improve workability and durability, and adjust concrete set-times. It takes skill and experience to know the right mix design and the right amount of each admixture to make top-quality concrete for the Arizona environment.
Concrete ingredients are weighed and measured at a computer-controlled batch plant. These materials are discharged from weigh hoppers in the batch plant into a ready-mix truck. The ready mix truck mixes all measured ingredients into a homogenous product during 70 revolutions of the mixing drum, about 5 minutes.
While the concrete is being transported to its destination, the cement mixer never stops revolving, continuing to mix ingredients.
In the summer months in Arizona, the placement and curing of concrete may require extreme measures. Most concrete is delivered before noon. On many larger projects in hotter months, concrete is placed at night or during the early morning hours to avoid the high daytime temperatures.
It's important to know how much concrete to order for your project. To make it easier for you, we have provided a concrete calculator. Just go to http://www.rocksolidconcrete.com/calculator. We also show you how to measure for your project, whether it be a slab, and footing, or a column. (video coming soon).